Verity Tuck and Hannah Spilva are co-founders of the fun and cheeky same-day national gifting service, LVLY. The company is a true reflection of the #LeadingLadies themselves, with a major focus on living the brand's values, a healthy dose of grit and hard work, and incredible support for one another.
Our latest #LeadingLadies had more than a decade of digital advertising experience before breaking away to launch their growing brand. We spoke with them to learn about how they managed the transition, their strategic growth and brand collaborations, and advice for entrepreneurs.
Verity and Hannah, you worked closely in an advertising before launching LVLY, what sparked the business idea?
Verity: We met in Sydney working at a digital agency called Isobar. I was Head of Client Services, Han was Strategy Director and we were managing the David Jones account together.
We were both living away from family (Han is from the UK and I'm from Melbourne) and feeling a bit homesick. We wanted to send our friends and family something thoughtful but couldn't find anything affordable or on trend.
We'd both been working on business ideas in our own time and decided to join forces. I wanted to do something with flowers and Han had already come up with a business idea for a company called LVLY. We spent a bit of time fine tuning the idea together, it was the perfect storm!
How did you find the transition as a team in an advertising agency to running your own business?
Han: Whatever you're doing before, the transition from being an employee to running your own business is a steep learning curve. It doesn't matter what experience or skills you have – nothing prepares you for the relentlessness of it. In other careers, you can work hard and go home, but as a founder you simply can't unplug. It's a new level of connectedness that you need to learn to manage.
Verity: One of the things that made the transition a bit easier is that Han and I could lean on each other. It's much less daunting when you're not flying solo and luckily we have very complementary strengths. My strengths lie in operations and execution, Han's thrives in steering the ship and creating new ideas. We round each other out very well.
What was your biggest challenge when you launched?
Han: When we first launched LVLY I was waiting for my permanent residency. I was being sponsored by my employer which meant I couldn't jump into the business full time, I had to stay employed part-time. I was working two jobs whilst Verity was able to focus solely on the business. It was a challenge in the sense that Verity was able to contribute more hours which created a bit of an imbalance. We weren't paying ourselves a salary from LVLY but I was getting a wage from my employer, so to instill a sense of fairness, I split my earnings 50/50 with Verity – we were a bit like a married couple!
That arrangement lasted about 8 months until I got my permanent residency and jumped in full time. It got us through by making it feel fair, we were in it together albeit contributing in different ways. The beauty of starting your own business is you can write your own rules. Creating fairness and flexibility was high on the agenda.
Verity: We quickly learned that focusing on the hours you work is not a good way to measure contribution or impact,  it's much more meaningful to focus on outputs and actions. This was useful when we became mothers, as you have to become really comfortable with flexible working. We're not always in the office 9-5, but as long as we deliver on our commitments, it works.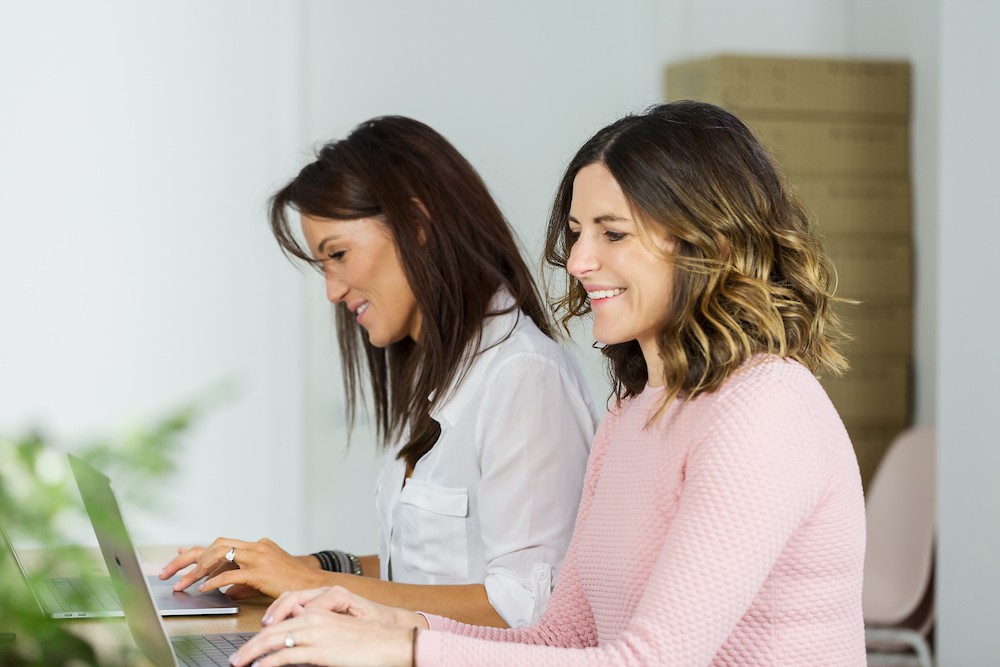 How has your agency experience translated into running a national gifting business and where did you need to fill the gaps?
Verity: Our agency careers gave us a good foundation to build on. Between us we had experience in branding, marketing, e-commerce, project management and team building. There were areas we needed to upskill in like accounting, logistics, and inventory management to name a few.
We initially thought that 'same day delivery' wouldn't be that hard to execute but in the early days we had so many delivery services shut doors in our faces saying same day would be impossible. The only way we could make it work was to deliver things ourselves! We did a short course to learn how to arrange flowers, thankfully we now have a team of amazing florists but in the early days it was all us.
Han: One of the big lessons we took from our advertising careers was the importance of building a great culture. We paid a lot of attention to defining our company values and we live and breathe them:
– Make someone's day – it's why we exist
– One team one dream – individually we're brilliant, together we're unstoppable
– Work hungry hustle hard – bring your passion to the table
– Own your impact – let your strengths shine and make your hours count
– Be a goodie – treat customers, colleagues and suppliers how you'd like to be treated
Have you had support from investors, business advisors or mentors?
Han: We've bootstrapped the business ourselves but are open to taking on external investment if it helps us achieve our long term goals. One of the most valuable things we've done is set up a small advisory board to help fill the gaps in our knowledge and experience. One advisor is an ex-client who was on the board at DJ's and knows Australian retail inside out. Another advisor built and sold their own business and is well connected in the start-up ecosystem.
It's important to get advice from lots of different people with lots of different perspectives. Don't turn away from the ones that challenge you and ask the hard questions, they're often the most useful. Our advisors have helped us cut through the crap and given us the confidence to take risks that we might have procrastinated on.
Launching four years ago, LVLY was ahead of the game in the gifting market. How was LVLY received initially? How has it grown?
Verity: LVLY was received well from the get go, our sales proved that we were offering a service that people wanted. We've grown our offering to include flowers, gifts, and now experiences with Endota Spa, cinema, cocktail and dinner partners, and the QT Hotel. We've also grown through geographical expansion across Melbourne, Sydney and Brisbane for same day deliveries, and national overnight delivery.
Han: We had strategic brand collaborations to help drive awareness and new users; from partnerships with Thank You, right through to a small local brands with no instagram presence but a bloody fantastic product. It means we can support their business and put new product in front of our customers, a win-win.
Despite the planning we've done to drive growth, it's dangerous to be too locked into your own strategy. Part of the joy of having a start-up is that you can change direction, be nimble and responsive. You've got to have a healthy dose of flexibility and be comfortable with jumping on new opportunities as they arise – despite the chaos it can create in the short term.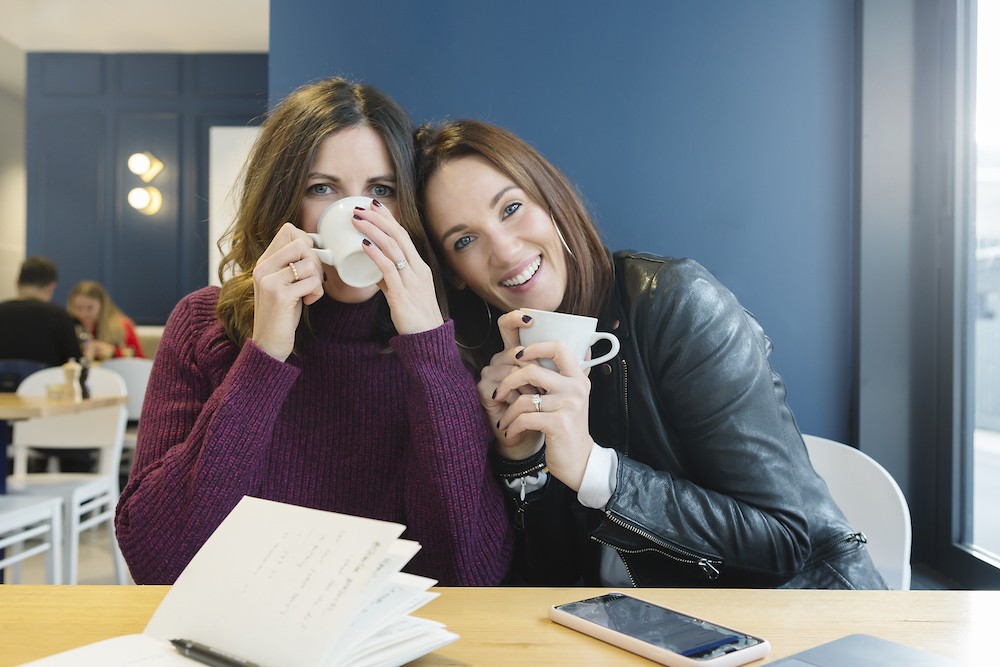 Have you had any copycats? Have they posed a threat?
Han: There's definitely a few copycats out there, people copying our flower jars and collaborations. It's flattering to be honest, we'd much rather be copied than be the business trying to copy others. The thing they can't copy is us, and that's what makes this business and brand unique.
There's a lot of online flower businesses because the barrier to entry is low. But we're building a national business that's capable of sitting across multiple product categories. So whilst we'd be silly not to keep an eye on the competition, we pour much more time and energy into the bigger vision that we're shooting for.  
What's your advice to other female business owners and startups?
Verity: Own your impact, talk about your strengths and celebrate the good days. Every little win along the way should be acknowledged but as females we don't pat ourselves on the back enough. It's also important to just get started, sometimes done really is better than perfect! You can always refine things along the way.
Han: Surround yourself with smart, honest and positive people. Have a healthy dose of competitiveness because if you're not determined to win, you won't. And remember that there's no such thing as an overnight success story – building a successful business will be way harder than you thought but infinitely more rewarding than you ever dreamed possible.
Connect with Hannah Spilva and Verity Tuck, and check out LVLY here.
For more #LeadingLadies interviews and updates, head here.
Photography by Holly Hawkins.