Samantha Eades, Bec Villanti and Bec Park are the co-founders of Jonny, a vegan friendly condom brand designed by women for women, to empower people to make healthy choices when it comes to sex.
The game changing brand is removing the sexualised stigma around condoms with open conversation and clever creative language, which is changing the way we perceive, purchase, carry and dispose of condoms.
We love what you're doing! What's the background to Jonny, how did you come up with the idea?
Sam: It was friendship first, I'd been friends with Bec P for 10 years, and Bec V and I were living together, footloose and fancy free! We were single and comparing notes so to speak, and we wanted to create a more natural or vegan friendly condom. We were also talking about the uncomfortable experience of buying condoms at the supermarket in an overly sexualised industry with naked women on the packaging. We wanted to remove that stigma, so the three of us came together to make it happen.
Bec P: I'm a single mum with a 16 year old daughter and I noticed the lack of targeting women on a healthy level. I wanted my daughter to feel not awkward but empowered, excited and happy to have sex for all the right reasons, and protected when doing so. We saw the opportunity for social impact and changing behaviour in the industry.
Your mission is 'to make you feel like a boss no matter where you are or what you're doing, but especially sportin' your birthday suit' – can you tell us about your vision?
Sam: Our vision is to be a product that is as normal as lipstick and hair ties to purchase.
Bec V: We want to normalise the experience of buying condoms and the first time you're having sex. We find that the first time people buy condoms is usually a conversation starter with a funny story, we want people to be comfortable talking about it. Conversation is how we normalise buying condoms, make sex celebrated, surround it with positivity and respect at the core.
Bec P: If you can create that shift in the population with women that affects generations of women, that's exciting. We could potentially have an impact on generations to come.
It's such a fantastic idea. How was Jonny received?
Sam: When we ran focus groups, we found women would rather have unprotected sex and visit the doctor rather than have the shame of buying a condom. When we brought out our condom, they loved the look and feel and said they'd be proud to have it in their bag. Witnessing the change from never buying condoms to wanting to was incredible.
Bec V: We initially had a lot of push back from young girls online. They would say, 'we have to buy the pill and tampons, why should we buy condoms?'. Some women assume it should be the man's responsibility. When we said, don't you want to feel empowered to carry a condom so you're prepared for any situation? Then we'd get the 'ah-ha' moment, as they began to change their pre-programmed thinking on this.
Bec P: That's what motivates us, that moment of empowerment. I see it with my daughter and her friends – they are so excited they can talk freely about it. It assures us we're on the right path.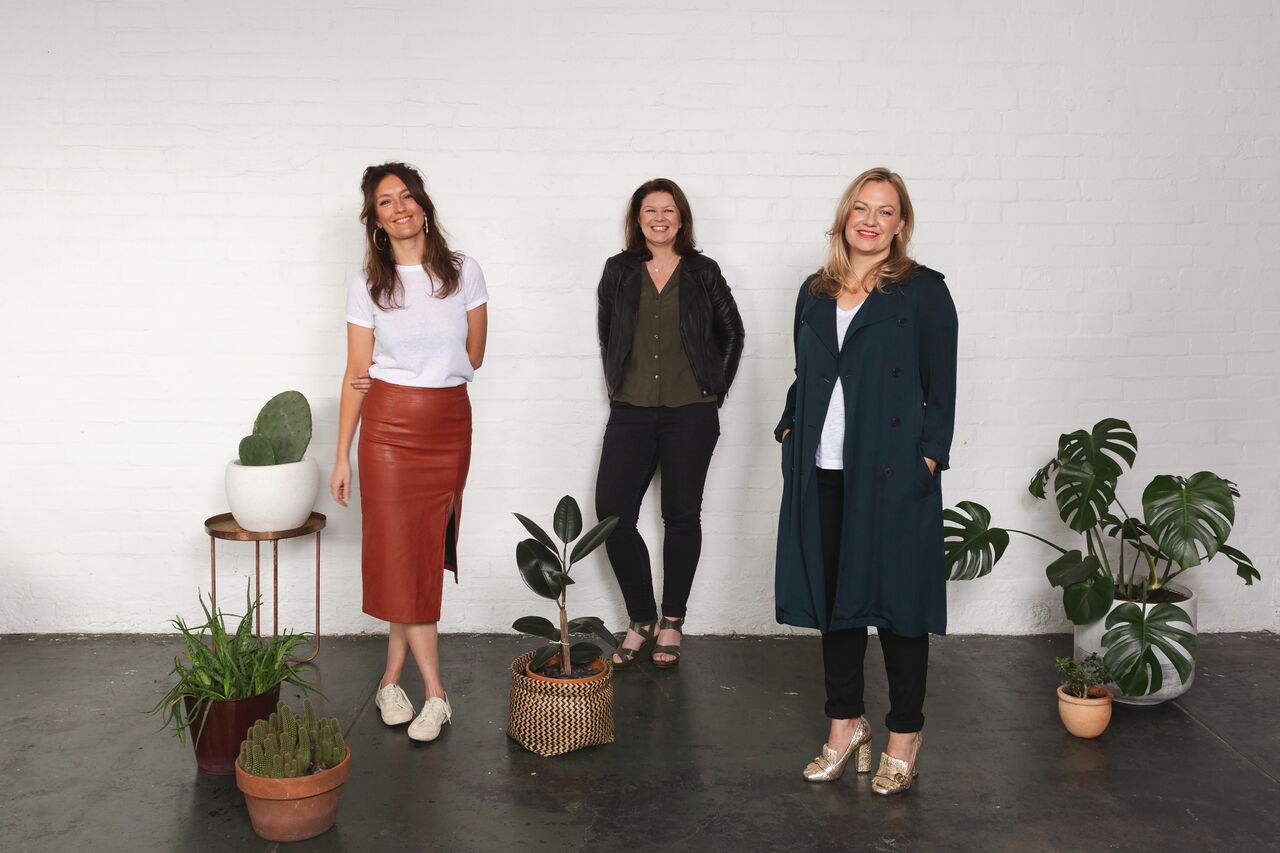 When did you launch, and where do you do your manufacturing?
Bec P: We launched on the 1st of January 2018 with our online store. We definitely feel like we're all on the right path right now.
Sam: We felt ready to launch two years ago, but have been busy working on the product and processes. There are hoops and approvals you have to go through before launching.
Bec V: The manufacturers test the condoms, but we've all tested them ourselves! We chose them because they're double washed and smell neutral which is great. They're manufactured in Malaysia – there are currently no Aussie manufacturers. Sami went to visit the manufacturers on her honeymoon, they're really good people with amazing business practices, who are really mindful and prioritise saving energy and power which is great.
Just checking – have we been using condoms with plant or animal products?!
Sam: We make as natural as possible – ours are vegan friendly. In other condoms there are milk derivatives used as part of the testing, or the lubricants that are in the condoms can be milk or animal based, but ours aren't.
Bec V: Ours are double washed so there's no toxic residue or nasty smell like some condoms have.
Bec P: With the toxins used in the past, it's shocking to see what's gone into our bodies; we wanted to rectify that. The flavoured condoms like chocolate and strawberry, can you imagine what they're using to make those smells?! It's like the BBQ Shapes of condoms!
Your branding is really fun and creative, how do you communicate your brand message?
Bec P: Our brand essence is really the tone of voice of Jonny, we don't want to tell 'you how to have sex' or 'make sure you have safe sex', but rather connect with people and break down any stigma or awkwardness around sex through humour. The market we're talking to are already aware, inundated with information and not stupid! It was deliberate to be clever, witty and audacious, and push the boundary without being predictable. The clever humour is critical.
Especially in the early part of our business, we didn't have the cash or imagery to promote ourselves, so we had to be clever in our copy to be relatable to our brand Jonny – the market really connected with it, it's a big part of who we are.
Bec V: Having an eco footprint is really important to us also, and our brand storytelling. You can't make an biodegradable condom because to make latex durable you have to treat it with a chemical. So we are as mindful and as sustainable where we have the control, such as with PEFC certified boxes, recycled mail bags, vegan condoms and also the biodegradable little bags that accompany each condom – to promote ocean-friendly disposal (yep, people still flush them down the toilet!).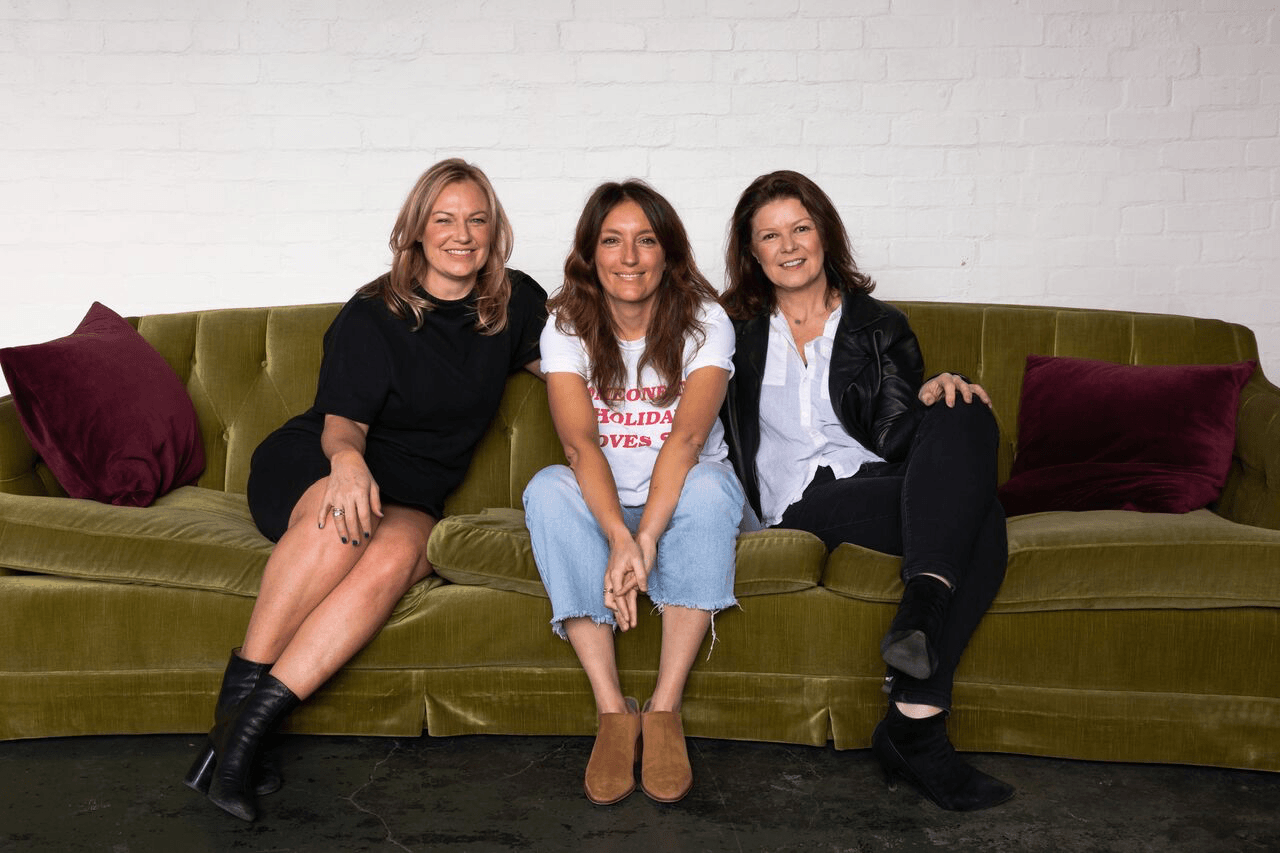 Without money to start the business, how did you get it off the ground?
Bec V: With our own money at the start – we bootstrapped it to begin with, and we thought we could do it by ourselves and thought 'we've totally got this' – but with production costs and so on, we realised we needed cash. We were really fortunate, it happened so naturally, we had a friend who said 'I believe in Jonny I'm going to invest'. They were all men. It was enough to get us to this point and a bit further.
Sam: It wasn't a lot, but it makes you really mindful of how you spend the money when it's not a lot. We had to learn to prioritise what we do, what's going to work and where we need it most.
Bec P: It's new territory for all of us. We're used to spending clients money from our backgrounds in advertising, production and design, but now it's ours, so we've learnt to become accountable for our spending.
What is the size of the business? Do you have a distribution strategy?
Bec V: At the moment it's the three of us working on it, and we do have some contractors, particularly for copywriting. We are currently in the process of securing some distributors. Our brand integrity is so important, we care about the community and relationships we're building.
Bec P: We're not going for supermarkets at the moment because we want to shift the awkwardness and be in places where women shop with women, and normalise buying condoms. We want Jonny to be in a clothes store or beauty store to break the awkwardness. We don't want to be where everyone else is.
What about the condoms, do you have different sizing?
Sam: We have one size – one size fits most – it fits about 80% of the market. We've been approached by some people saying we love who you are and what you stand for, but we need a bigger size!
Bec V: We give people the opportunity to trial our condoms which are 53ml (diameter). We're looking at doing one size up, depending on demand.
Do you stock in boutiques outside of your online store? Have you run into any conflict with competitors?
Bec P: Our distribution is growing rapidly, and we have signed on with national distributors Unique. We're selling online and are stocked in boutiques including The Staple Store store and CLAY Health & Organics, and a few online retailers Flora & Fauna and Natural Supply Co, as well as two awesome clothing stores in Byron Bay. We've seen Instagram generate lots of traffic from females, and males are shopping via Google – Jonny is gender neutral, we want men to feel included.
Bec V: We've had a copycat online with the same message but a different tone of voice. The more brands that are empowering women, the better, but it's important to establish your own unique offering and customer base.
What's next for Jonny and you as a team?
Sam: Bigger condoms for one!
Bec V: We're working on securing some disruptive and good distribution channels that we can't talk about just yet!
Bec P: Education is on the horizon for us. We're also looking at some retailers in the UK & US, so watch this space!
Connect with Samantha Eades, Bec Villanti and Bec Park. Pick up your Jonny supply here.
For more #LeadingLadies interviews and updates, head here.
Photography by Courtney King.